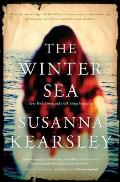 Publisher: Sourcebooks
Page count: 544 pages
Date begun: July 27th, 2011
Date finished: July 28th, 2011
Carrie McClelland is a bestselling author, who while visiting her agent north of Aberdeen, is strangely drawn to Slains castle in Cruden Bay. She's recently started a book about the 1708 Jacobite rebellion (if you don't know Scottish history, google it, I'm not going to explain it here), and decides to rent a cottage in the village near the castle, to get further inspiration for her writing. Unlike her previous novels, her new book seems to flow off the page, almost as if she's not having to craft the story, but writing about something she herself experienced.
The Winter Sea
was first published in the UK as
Sophia's Secret
. It contains two parallell narratives; the story of Carrie, writing her novel in the Scottish countryside and trying to discover more about her ancestors during the early 18th Century, and Carrie's novel, about young Sophia Paterson, who arrives at Slains castle in 1708 and gets involved in the Jacobite rebellion. Both narratives are very well written, with very engaging protagonists, and while it's a fairly big book, I could barely put it down. It helps that the suspense is kept high as the narratives alternate. Anyone interested in well written and entertaining historical fiction, especially with a romantic element, should give this book a chance.