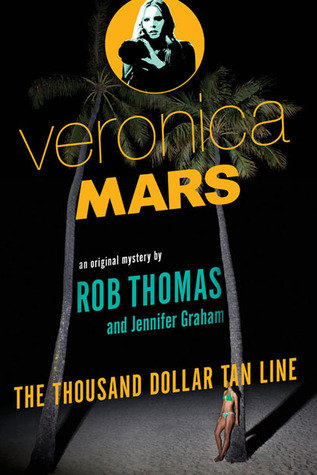 Page count: 338 pages
Rating: 4 stars
Spoiler warning! Avoid this book if you've not watched the
Veronica Mars
movie and want to avoid spoilers for the plot of said film, because this book follows on from the events there. Hence this review will probably spoil the movie too.
Veronica is back in Neptune, working as a P.I, running Mars Investigations while her father recuperates. She's struggling to make ends meet, not to mention paying Mac, who's working as her office assistant. During spring break, a girl disappears from high profile party, and as the media attention starts hurting the profit of Neptune's businesses, Veronica is hired to find her, as the Neptune police force has proven to be useless. It turns out that the house the girl disappeared from belongs to members of a Mexican mob family. Then a second girl disappears, from the same house, and this time, the missing girl's family have connections to Veronica's own past.
As with fellow Cannonballer
Narfna
, I'm not actually able to stay objective in the face of
Veronica Mars.
I loved the show, I donated money to the Kickstarter campaign to fund the movie. Getting more stories about my favourite petite, blond, sarcastic detective, even in book form is just a blessing for me. You can disagree with the choices Veronica made in the movie to end up where she is at the start of this book, but I'm just so glad to have her back and any time I get to spend with her and the other great characters that I love, like Keith, Mac, Wallace and Logan (even though he only appears sparingly in this book) is time well spent for me.
Apparently the mystery in this was the one they were planning to initially use in the movie. I think I like it more than the movie plot, but unless the rest of this review hasn't made that clear already, I probably would've enjoyed this book if Veronica, not unlike Sookie Stackhouse in the later Charlaine Harris books, just lay around, sunbathing, running errands, going to the library and generally bemoaned her romantic misfortunes. Because I adore Veronica Mars. If I can't have her on my TV or in more movies, I will happily take her in book form.
Crossposted on
Cannonball Read
.