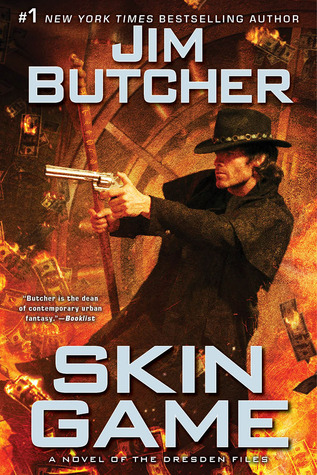 Page count: 454 pages
Audio book length: 15hrs and 50 mins
Rating: 5 stars
Standard spoiler warning!
This is book 15 in the series. You don't want to start here. If you're not caught up with the series, you may want to skip this review, because while I'm going to try to not spoil this actual book, I can't actually avoid spoilers for some of the previous ones. It took me a long time to get hooked on these books, but they are totally worth the effort. Just skip the first three and start directly with book 4,
Summer Knight
. You'll thank me, because the first three are a slog to get through.
Are you still here? Spoilers be on your own head then.
Harry has been stuck on Demonreach, his island/supernatural prison for the past year. He's kept busy doing parkour in the tunnels underground, needing the sentient spirit who lives there to help him keeping his headaches from crippling him. Mab shows up and claims he will be dead in three days if he doesn't do her bidding. The parasite inside his head will burst through his skull, take shape and go after everyone he holds dear. That Mab, she's such a motivator.
Seems the Queen of Air and Darkness has loaned out her Winter Knight to pay back a debt. Harry has to help none other than Nicodemus Archleone, head of the Order of the Blackened Denarius, pull off a near-impossible heist. If he agrees, he's pretty sure that Nicodemus will try to kill him during the mission. If he doesn't agree, Mab will let him die, and appoint a new Knight in his place. He doesn't have much of a choice. Now he has to work with some of the slipperiest characters of the supernatural underworld (most of whom would happily kill him as soon as they got the chance) to break into the treasure vault of Hades himself. What could possibly go wrong?
I've been putting off this review, because I'm not sure I can put into words how much I enjoyed this book. Long time readers of my blog and/or reviews will know that it took me quite a long time to jump on the Butcher band wagon, but over the last year or so, I have slowly but surely caught up, and had only a few weeks to wait for the release of this one. Of course, now I'm stuck waiting with the rest.
In my review for
Cold Days
, the previous book in the series, I said that I couldn't really see how Butcher was going to keep amping up the tension and making the danger levels greater and higher with each book. There's only so much more he can do to Harry, or so you'd think. I certainly didn't see the developments in this book coming (seriously, that's some crazy ass headache explanation), and of course, Harry is not the only character in the book who can experience dangers or high stakes. Sooner or later, Butcher is going to kill off a major character that I have grown to love and then we are going to have a serious problem on our hands. I'm not sure I'll be able to deal rationally. I know these are fictional characters, but they are important to me.
As always, I bought this book as an Audible audio book, because
the Dresden Files
and James Marsters' narration are now inextricably linked in my head. I listened to maybe the first 25% before I broke down and tracked down an e-book copy, because I just didn't have the patience to listen to the entire audio book to find out what was going to happen next. I'm glad to have the audios, for when I will inevitably revisit the books, but I suspect, from now on, I will want to read the books myself, it's oh so much faster. While I am worried at what being the Winter Knight is turning Harry into, the end of this book made me very very happy. I may have reread that bit in the hospital quite a few times.
Crossposted on
Cannonball Read
.